Mahogany was known in England in Elizabethan times.  In order to save on the use of their precious oak (for ship building) the duty on West Indies timber was repealed in 1721. That was the answer to English cabinetmakers dreams.  It was fast growing and they were huge trees, they made one board tops, ends, etc. Which saved time (money).  And it was beautiful!  It was a rich brown, from light to dark in color, with beautiful graining.  And the woodworms did not like it!  It was great for carving.   First they imported the dark "Spanish" mahogany from San Domingo, it was loved for its beautiful color and heavy weight even though it was not "well grained". Cuban mahogany began to replace it about 1750.   It was paler in color but handsomely figured  (grained). When supplies lessoned, a lighter Honduras mahogany from Central America replaced it.  Even larger trees yielded even larger boards.  It was perfect for the multi-leaved dining tables.  About 1830, African mahogany first arrived in Europe.  Around the end of the 19th century Honduras mahogany came back into popular use.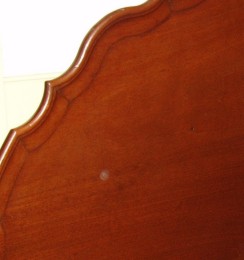 Most of today's good mahogany is from Central America.  African mahogany, although available is extremely expensive and hard to acquire. It is even lighter in color and weight, with a straight but not as close grain; but it is still beautiful.
There is an enormous amount of Indonesian and Philippine solid mahogany furniture being imported today.  It is extremely light in color and is normally heavily stained to accommodate tastes.  Care must be taken to acclimate it to our climate, to prevent severe non-repairable warping.
This is an excerpt from Class Three of  Antique Furniture 101, we use high quality photos from our own inventory of investment quality antiques, and the class is taught in our showroom and shop, by both the author Jo E. Gates, and her son John (Jay) Gates.
© 2004 – 2012 All Rights Reserved