Hardware
Hardware, including nails, screws, etc., was so valuable, in the 18th and 19th centuries that it was counted and included in estate inventories.
Nails
Nails… When were they introduced?
The Industrial Revolution was first introduced, on a big scale, in the textile industry.  There are prints as early as 1747, of those factories.
One of the next documented industries, to be revolutionized, was for nail cutting.  Most hand cut nails were imported from Britain.  But by 1790, nails were being manufactured/cut in America. Except for the L-headed, the heads still had to be headed by hand (rose head).  The United States did lead England in the development of both hand and power nail making machinery.
Hand Cut – Rose head nails.
Used until about 1790.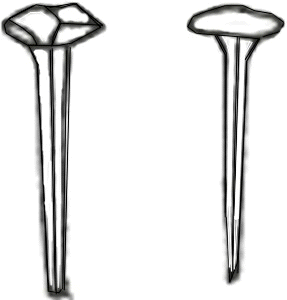 This is an excerpt from Class Four of  Antique Furniture 101, we use high quality photos from our own inventory of investment quality antiques, and the class is taught in our showroom and shop, by both the author Jo E. Gates, and her son John (Jay) Gates.
© 2004 – 2012 All Rights Reserved